Luu Hong Quang and his glorious journey with music
When he was a child, when the sound of his father teaching his students every night resounded in the small attic, it was also the time when the young soul of the boy Luu Hong Quang began to vibrate and accept those beautiful sounds. Day by day, the pure musical notes nurtured in his soul a natural and unconditional love of music so that when his father officially let him touch the piano, those sounds became very close.
Artist Luu Hong Quang grew up in a well-to-do family and had a tradition of education for generations. His father is Associate Professor - Doctor - Distinguished Artist Luu Quang Minh, former Deputy Director of the Vietnam National Academy of Music, a prestigious and experienced person teaching and performing the accordion and Jazz music in Vietnam. His mother is businesswoman Phan Hong Chau, Director of Hy Vong Tourism and Service Joint Stock Company (Esperantotur), an original Hanoian woman who inherited the cultural quintessence of the civilized land from the religious tradition family education. Raised in a well-to-do family, trained and molded from a young age, young artist Luu Hong Quang is always conscious of his efforts to train, cultivate knowledge and dignity to be worthy of that family tradition.
His beloved father lifted the first musical note; the professional musical path of artist Luu Hong Quang also started very early. In 1996, Luu Hong Quang passed the entrance exam to the piano department of the Vietnam National Academy of Music and studied in the class of Professor - Doctor - People's Teacher Tran Thu Ha. Under the guidance of a dedicated teacher, Luu Hong Quang's playing technique is increasingly perfect. His notes are more and more soaring and becoming more soulful. Setting himself strict requirements, Luu Hong Quang, with his efforts, has gradually overcome new limits of himself.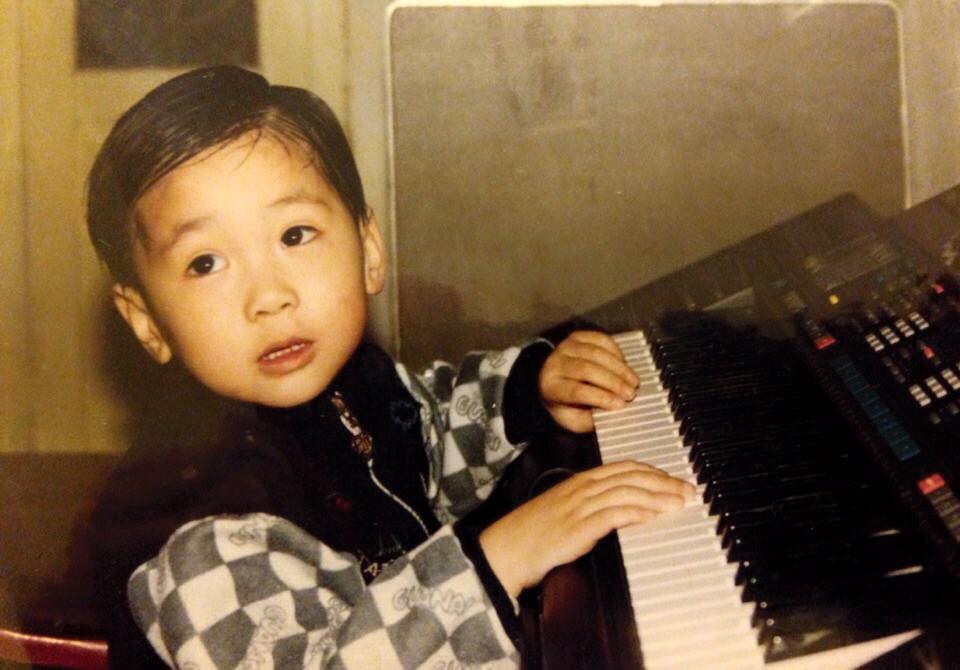 Pianist Luu Hong Quang at his childhood
Unlike other arts, music is a subject that requires perseverance, discipline, and high concentration. Progress is not immediately visible, but it requires daily, monthly, yearly, even decades of hard work. In addition to practice, the artist must always self-study to hone new knowledge. Aware of that harrowing journey, Luu Hong Quang has never had a moment of discouragement and faltering. In 2006, when he was not 16 years old, he was honored to win the special prize of the international Chopin Asia competition in Japan, which is a testament to the tireless efforts of the young artist. When asked about the difficulties on the musical path, the 16-year-old Luu Hong Quang at that time shared, "Each work has many different difficult details. At least you have to finish basically, then think about how to show it. The most important thing is that we have to maintain our bravery and strength. No matter how good you play in practice when you lose your spirit, you will fail." Maintaining bravery is also the guideline for young artist Luu Hong Quang always to be firm on his path.
At the age of 17, when we were still standing in front of the doors and choosing our future, Luu Hong Quang began to step into the path of studying abroad. In 2007, he received a full scholarship from the Australian International Conservatory of Music, officially choosing a thorny and challenging training path. Away from home, having to be independent of meals and sleep, the young man always cherishes the desire to discover new musical knowledge to satisfy his burning dream. Along with the knowledge he has cultivated while studying in his home country, the young artist's level has become more and more skillful and sublimated under the guidance of Professor Kyunghee Lee at the Australian International Conservatory of Music.
Also, during this time, Luu Hong Quang began to reap prestigious awards in piano competitions in Australia, such as First prize in piano competitions organized by Sydney Eisteddfod, including Kawai Piano Award, Chopin Piano Award, 19th Century Piano Award, Piano Recital Award; First prize in Australia-wide Lev Vlassenko competition for ages 16-30 (with four extra prizes). During this time, he was also honored to perform with many famous orchestras such as Hanoi Symphony Orchestra, Vietnam National Symphony Orchestra, Orchestra from Florence (Italy), Symphony Orchestra Queensland (Australia), KOZY Symphony Orchestra, Metropolitan Orchestra (Sydney), Wuhan Symphony Orchestra (China). In 2012, he graduated with honors from the Australian International Conservatory of Music. Ten years of independent training in a faraway country is also when much sweat and tears have been shed.
The more he learns and spends time learning, the more Luu Hong Quang understands that music is not only a mode of expression, but it is also a place to store great aesthetic, historical, and ideological values ​​of humankind. The artist's hands are the tools to convey those great ideas to the audiences. The more he understood and became aware of that noble mission, the more enthusiastically Luu Hong Quang threw himself into learning. He passionately explores new things in the world of music. There were practice sessions that he forgot even to eat; there were sessions until late at night, but still not satisfied, he turned on the electric piano, turned the volume down to not disturb the surroundings, practiced again and again until he mastered the problematic skills art. Before performing work, Luu Hong Quang always keeps the habit of thoroughly studying that work. Only when understanding the content and mood that the author wants to convey through, the sound of the piano will sound more emotional and human. Each note shows the artist's respect and heart to the audience, so the artist has to perfect it to the best level.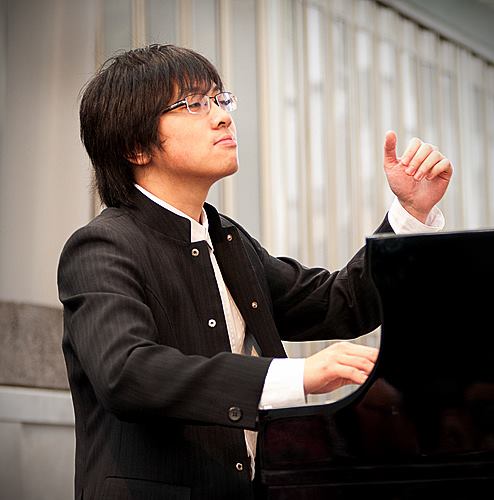 Pianist Luu Hong Quang performed at Queensland, Australia
In 2014, Luu Hong Quang continued on his learning path when he studied for a master's degree in performing at the University of Montreal, Canada, under the tutelage of Professor - People's Artist Dang Thai Son. Having the same soul when always taking the Vietnamese national cultural identity as the root, Luu Hong Quang has acquired much valuable knowledge from his great teacher. When talking about his students, Professor - People's Artist Dang Thai Son also gave his preference when evaluates on him: " His level of pianistic professionalism is high and I am impressed by his degree of artistry, Mr Luu demonstrate great musical creativity and control on stage, and posseses an enticing stage presence."
On the musical journey with tireless efforts, pianist Luu Hong Quang has been honored to win many prestigious awards: Third Prize of the International Piano Competition Valtidone - Italy 2006; Special Prize at the 4th Chopin International Piano Competition - Asia in Tokyo in 2006; First prize of Recital Award – Australia – 2008; Second Prize in Valtidone International Piano Competition (Italy) – 6/2008; First Prize of Chopin Competition – Sydney – 2009; Third Prize of the 1st International Piano Competition in Hanoi (Vietnam) – September 2010; First Prize of the 19th Century Piano Competition – Sydney – 2010; Third Prize of the 20th and 21st Century Piano Competition – 2010 Australia; Third prize of Russian Piano Competition – 2010 Australia; First prize and four sub-prizes of the 7th Lev Vlassenko Piano Competition – 2011; Second Prize of the International Piano Competition Euregio Piano Award 2015; Second Prize of Cita Di Oleggio International Piano Competition - Italy 2018. For Luu Hong Quang, these awards are a great source of spiritual encouragement, but the greatest reward for him is still living in music, being immersed in the beauty of sound, and being able to bring his energy to life.
Music is also the place where artist Luu Hong Quang expresses his passions and ambitions. For him, overcoming the limits of his ability is a responsibility for the artist to better express the profound messages in his work, bring the most genuine emotions to the public and prolong the link between generations. To be a music teacher at the Australian Academy of Music and Performing Arts, he is dedicated to bring that enthusiasm to his students so that the mission of music is always continued.
Memories of Luu Hong Quang at home after ten years of studying abroad
His family has always been his solid support and peaceful place to return to after months of intense study on every stage of music. The instruction of great teachers has brought him valuable knowledge that he always treasures and cherishes with him. Music has given him moments of sublimation, beautiful experiences in his tours worldwide, and opportunities to meet teachers and friends. That encouragement has made him more motivated to conquer upcoming challenges and devote more to music. That is also the way he shows the most sincere love for life.
Editor Chau Anh.